Welcome to Brighton Travelworld
For 55 years Brighton Travelworld has created customised itineraries for discerning travellers to every corner of the globe including our own wonderful country, Australia. Our name has become synonymous with all facets of travel whether it be your first holiday on a budget, or your ultimate luxury escape. We are recognised for our research and understanding of the ingredients that create a great travel experience.
We invite you to meet our close team of highly trained, well travelled Consultants. Between us we have over 150 years of travel experience! We place that experience at your disposal for your corporate or leisure travel needs. We are passionate about travel. Some of the secrets of what we love can be discovered in our newsletters and travel gems. And we can tell you all you need to know about cruising! "A local award winning business supporting our local community".

Contact us to help plan your next trip.
JULIE AVERY
Managing Director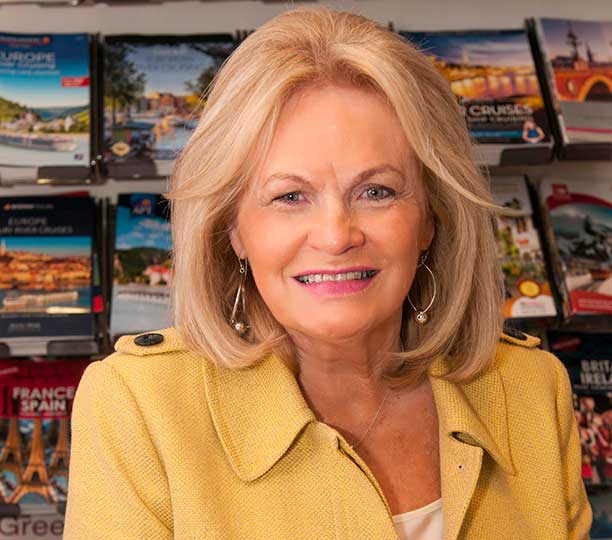 Testimonials
Thank you Julie and Kerrie for arranging a sensational safari when we had a quick opportunity in Kenya.  As always your help and attention to detail was perfect.
Thanks to Lisa and Carol I rarely experience the issues associated with international travel. Their knowledge and experience has certainly saved me and my wife a lot of stress. A good example was on my recent trip to the USA I was going to go on line and book a flight from New York to Boston. When I mentioned this to Lisa she suggested that I look at travelling by train as the time lost in the end was similar but the experience would be much more relaxing. I asked her to organise it for me and she was so right as it was a much more pleasant experience. It was a reminder to me that even though I have done a fair bit of travel there is so much I don't know. From now on I will leave it to the experts.
My sister was spot on with her assessment – you are highly efficient and knowledgeable
We've come back very rested & relaxed!

Thanks for your help- it was great having it all so organised.
The Holiday was awesome! Have been meaning to send you a note to thank you for doing such a great job !
Thank you so much for all your organizational skills and putting up with our chopping & changing. You have the patience of Job
Thank you so much for all your organizational skills and putting up with our chopping & changing. You have the patience of Job
Langkawi is heavenly I'm happy to sit on my banana lounge for 5 days and not move. The pool attendant comes past and pours you iced water to drink , followed by cut up fruit then hands you a peppermint infused face cloth!! Really life can't get any better than this. We have had a truly awesome family adventure.
Many thanks for all your hard work in making our dream a reality.
This attention to detail is impressive. It has made me realise why one should choose using a travel agency rather than doing it oneself through the internet. You will definitely be hearing from us in the next month or so re planning/booking our next holiday.

Thanks again.
Just wanted to send a short message to let you know that your suggested hotel in Sorrento is just fantastic.

We have been relaxing and enjoying every minute. The room is lovely, the bathroom is spacious, the staff are wonderful and the view is spectacular.

.. All fabulous and we want to thank you so much, you are a real miracle worker.
We thank you for all your work in arranging our recent trip. Everything went very well.

We were very happy with the Renaissance at Heathrow.
The Premium Economy worked well especially for me.
Swissotel was perfect as usual and the Executive room and additional "value adding" was a perfect way to spoil ourselves at the end of the holiday.
To top it off we were upgraded to Business Class on the Singapore/Sydney leg. Made a perfect end to the holiday.
Thanks so much
We had a fabulous holiday!! Everyone had a ball. The teenagers were in their element and all are full of wonderful stories and experiences. The little ones had a ball in kids club and performed on the shows and modelled in fashion parades. Mum and Dad played golf every day and Dad won quite a few medals!! He coped really well. Walked everywhere, shopped, watched the shows, had a few drinks and really was pretty good and we were not worried about him at all. He even got up and danced one night! Club Med had them in a perfect room on the ground floor and close to the main area. Thanks Julie I'm sure you requested that. The seats in the plane were great _ close to the front and in 2's behind each other which was terrific. Thank you. The fast track service when we landed in Bali airport was so worthwhile. The queues were unbelievably horrendous and we were so thankful that you recommended that service. We were at Club Med 1 hour after we landed!! At 4.00 we were swimming! All in all the holiday was perfect thanks to you. Thank you so very much for organising a wonderful holiday for us Julie. There were several added extras you did which we really appreciated. Thanks for everything!!
We have just returned from our holiday, where we had such a great time. Just wanted to thank you once again for organising this so quickly! Really appreciated your immediate attention and speedy response. To think that you were able to organise it within the hour when it had been sitting with the other travel agent for 5 weeks!
Thanks again for your choices I trust your judgment and it is wonderful to know you are so good at your job all we need to do is have a good time.
We had a great trip!!

Your organization was fantastic ! Thank you.
I arrived home yesterday after a wonderful trip with my daughter through Vietnam. We had a fantastic time.

Thank you for your superb planning….every aspect was great. The accommodation in each case was very good …with Everson Hideaway in Na Trang as the stand-out….absolutely amazing.

Thanks again. I will definitely be using Brighton Travel and you in particular for my future travel needs.